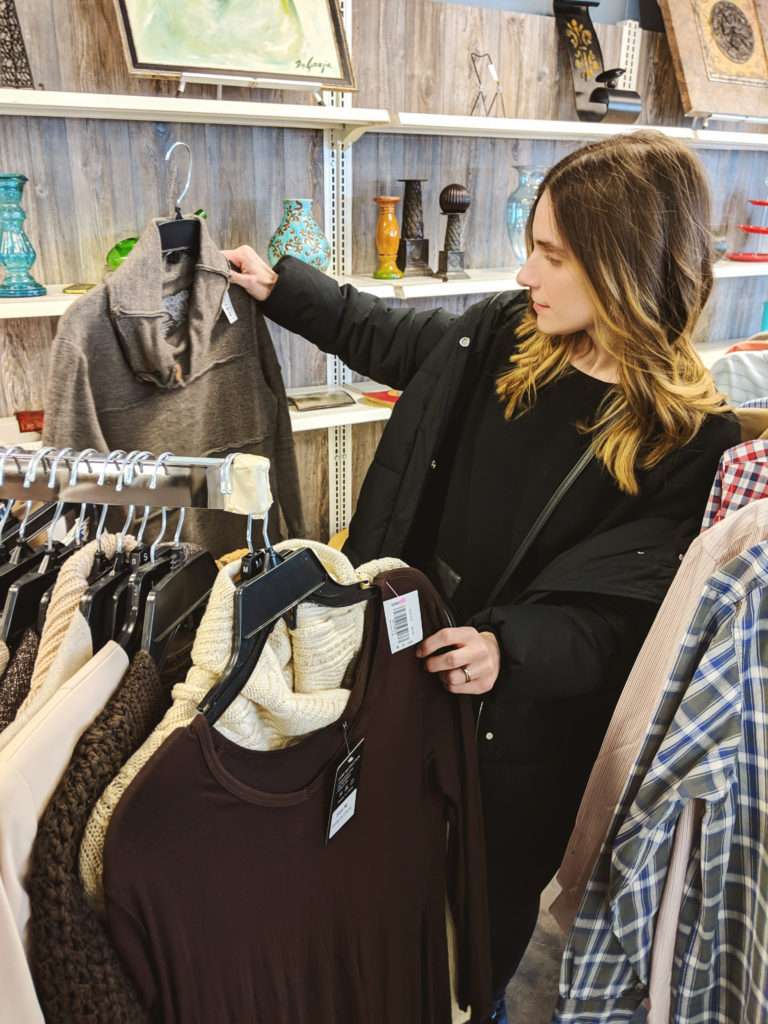 There's nothing I love more than a great sale! Besides my love for shopping the clearance section I also love the thrill of what treasures I may find while thrift shopping.
Since thrift shopping can be a little overwhelming below I've featured 9 tips & tricks I use to have a successful/enjoyable shopping experience. Plus I've included 16 clothing items, 5 purses, and 5 art pieces I own and love that were found during my thrift store shopping excursions.
Plus, if all that wasn't enough at the end of this blog post I've featured 6 of my favorite blogger gal pals who also shared their recent thrift store finds, tips, and more.
Thrifted J.Crew Blazer & Coach Purse / Thrifted J.Crew Leopard Print Sweater
Tip Number 1: Wear Comfortable Clothing That's Easy To Remove Or Easy To Layer Over
It's important to wear comfortable clothing especially if you plan to be on your feet all day shopping, and/or lifting heavy home decor items. Also, wearing easy to remove clothing makes the try on session in the fitting room go much smoother, or try wearing tight fitting clothing (like tank tops & leggings) and skip the fitting rooms all together! Dressing this way makes it easy to pick up and try on any blazer, blouse, sweater, etc. you may come across.
Thrifted Atti.k Coat / Thrifted J.Crew Coat
Tip Number 2: Think Of Thrifting As Exchanging Your Time For Savings
Most days you really have to dig to find anything good and that can take some time so plan accordingly. Sometimes you'll find lots & lots and other times nothing will appeal to you. Definitely don't let the fact that you come home empty handed keep you from thrifting again. It happens to everyone.
Thrifted BB Dakota Vest / Thrifted Zara Dress
Tip Number 3: Bring A Friend
As I mentioned above thrifting can take some time, so bringing a friend along can make the experience much more enjoyable. Plus it's great to have a second opinion on clothing or home decor before you buy.
Thrifted Banana Republic Blazer Size 6 / Thrifted Tommy Hilfiger Sweater Size L
Tip Number 4: Ignore Sizes
Since thrift stores are full of hundreds of different clothing brands (that all fit differently!) I typically don't restrict myself to just one size. Also keep in mind oversized tops, cardigans, sweaters, and blazers are trending right now. For example if I'm shopping for a blazer I'll typically grab any blazer that appeals to me regardless of size and try them all on. More often than not I'm pleasantly surprised by an item found outside of my normal size section (typically I'm a size small).
Thrifted J.Jill Linen Top / Thrifted J.Jill Linen Tank Top
Tip Number 5: Have A List
I always keep a shopping list on my phone using the Evernote app for accessory, clothing, and home decor items I would like to own. Currently on my list: straw or beaded bags, silk slip dresses, leopard and snakeskin pieces, gold necklaces, round sunglasses, denim skirts, and small scale art (for my office), just to name a few. I like to review my list before I start shopping so I don't get carried away buying things I don't have a need/use for.
Thrifted The Limited Leather Jacket & Kate Spade Purse /Thrifted Coach Trench Coat
Tip Number 6: Do A Once-over Before Buying
Last year my husband purchased 2 used North Face jackets online and when they arrived they smelled of smoke. I've heard that's a smell you can NEVER get rid of, but thankfully after several washings, outdoor airing, and essential oils the smell finally went away, so buy at your own risk. Pinterest is a great source for finding advice on how to remove smoke smell from clothing incase you find a stinky piece you can't live without. Besides the smell make sure the item is intact. No missing buttons, the zipper works, no holes, stains, missing pieces, etc.
Thrifted American Eagle Top & Dooney & Bourke Purse / Thrifted Banana Republic Top & J.Crew Purse
Tip Number 7: Decide If An Item Is Worth The Price
The more you shop the better you'll get at determining what's a good deal or not. Most thrift store items are only a few dollar so if you really like the item, it fits well, it's something you want/need, and it's in good shape like I mentioned above then it's a no brainer. If it's a more expensive item you could go home and sleep on it, but chances are it won't be there the next day. To help me decide I'll pull out my phone to check prices online of similar new and used items.
Thrifted J.Crew T-Shirt / Thrifted Gap Dress & Straw Purse

Tip Number 8: You May Have To Get Over The Gross Factor
The shopping environment, smells, finding broken or dirty items, etc. Once while trying on a dress I put my hands in the pockets and found a crumpled up tissue hiding inside. Gross! Needless to say I didn't buy that dress, but I did go home with a cute J.Crew star t-shirt that I wore for the 4th of July.
Thrifted 4 Art Pieces In The Middle / Thrifted Top Right Art Piece
Tip Number 9: Imagine Home Decor Pieces Inside Your Home
It can be hard to see the value in a home decor piece when it's dirty and surrounded by clutter. Instead try imagining it cleaned up and sitting on your bookshelf, table, or hanging on your wall. One of my favorite places to find art is from thrift stores. Not only is the art inexpensive, but unique too. If you're still having trouble imagining a piece in your home check out Pinterest for inspiration. Just type a generic keyword of the item you're deciding on in the search box and see what inspiration you find.
Do you like to thrift shop too? Also don't forget to check out these amazing thrift store blog posts below.
7 Bloggers Share their Thrift Store Finds, Tips and More!
The Dark Plum
9 thrift store shopping tips featuring thrifted outfits from all 4 seasons.
Everyday Mrs
Boho Home Finds and High-End Designer Wear.
Sugar, Spice and Style Thats Nice
Bar Cart Styling and Colorful Kitchen Vintage Finds.
Live Laugh Rowe
Boho Baskets and Beautiful Vintage Vase via Live Laugh Rowe
The Glamour Pursuit
Thrifted Workout Outfits
Curlybyrdie Chirps
Revamping My Spring Style on a Budget
Everyday Teacher Style
Perk Up Your Home Decor on a Budget with Thrifted Finds