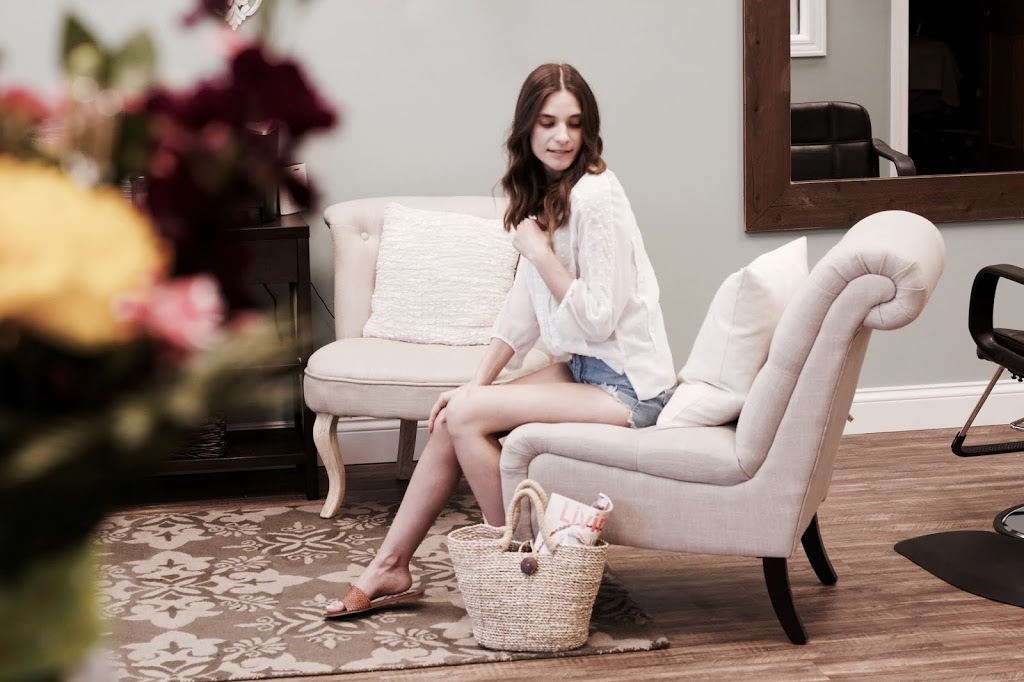 The salon couldn't be any cuter with a cozy waiting area, a coffee bar, and don't think I didn't notice that beautifully displayed jar of Oreos.
Facial
I started off my day at the salon with a facial from Lydia. After giving her a background on what type of skin I have, and what products I currently use on my face, she proceeded by asking me several follow up question to make sure she understood my skin fully. Since I have very dry sensitive skin, Lydia opted for a moisturizing facial. This being the first facial I've ever received I have nothing to compare it to, but it was not only extremely enjoyable, I could tell my face loved it too. The next day I noticed a dewy glow that my skin doesn't normally have on its own.
Lash Lift & Tint

A
fter my facial
Lydia
added a bit of glam to my face by curing and tinting my eyelashes. She started off by asking if I'm claustrophobic. I definitely don't like tight spaces, so I wasn't exactly sure what all a lash lift and tint would entail. I quickly found out in order to have your lashes curled, your eyes need to stay shut between 5-10 minutes depending on how long your lashes take to curl. Thankfully, it was not a problem at all and the 10 minuets quickly flew by as I chatted with Lydia about her dogs.
Cut & Color (Balayage)
Since I'm trying to grow my hair out it's been several months since my last haircut, and even longer since my last balayage treatment (16 months). If you're unfamiliar with the term balayage, it's a dying technique where the dye is painted directly onto the hair, and the color gradually gets lighter towards the ends, mimicking a natural sun-kissed effect. You can still see traces of the balayage in my hair from last year, but Tia helped bring the color back up towards my roots just in time for summer.
Spray Tan
After my face, lashes, and hair were finished, and my day at the salon was coming to an end, Tia asked if I would like to try their all natural spray tan. I of course said yes! I absolutely love having a natural healthy looking glow, but don't want to damage/age my skin prematurely, so I wear sunscreen daily.
Tia decided to spray me with their lighter tanning solution since my skin was so fair to begin with, and I was nervous about going too dark, but whether I chose the lighter or darker tanning solution the spray tan magically looks natural on all shades of skin. Thankfully, I know this to be true since my friends and family thought I had just been spending more time in the sun. It looks so natural!
Right after the spray tan you will look a little splotchy, but don't fear that goes away after your first shower. Just wait 4-6 hours before showering (I waited 6 hours), or you can even sleep in your spray tan overnight and shower the next day for an even darker look! While showering, all the excess color will run down the drain and what's left is a totally natural looking tan that will last for a week no special care needed.