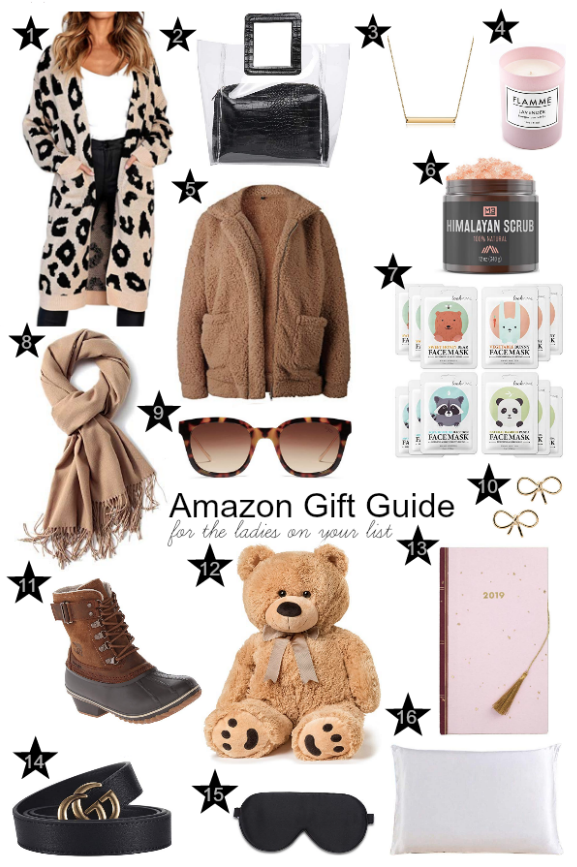 1.Leopard Print Cardigan $30 | 2. Clear Tote $24 | 3. Bar Necklace $18 | 4. Candle $28 | 5. Jacket $31 | 6. Himalayan Body & Face Scrub $17 | 7. Face Masks $19 | 8. Scarf $17 | 9. Sunglasses $14 | 10. Bow Earrings $10 | 11. Sorel Boots $130 | 12. Teddy Bear $35 | 13. Planner $23 | 14. GG Belt $31 | 15. Silk Eye Mask $8 | 15. Silk Pillowcase $22 
I can't believe Christmas is only 10 days away and I STILL have a few people left to shop for! Amazon has always been a favorite place of mine to buy Christmas gifts (it's just so fast & convent with the 2 day prime shipping), so if there are any other late shoppers out there like me I've compiled this list just for you. 
1. Amazon has so many cute sweaters to choose from and this leopard print cardigan (that comes in several colors!) is so on trend right now. This cardigan would make a great gift for anyone on your list. Including yourself!
2. Clear purses are trending right now and this one comes with a separate compartment to hide some of the belongings inside. 
3. A simple bar necklace would look good on anyone and is simple enough for daily wear. 
4. Candles are so cozy to light this time of year and this lavender scented one is so pretty. 
5. The teddy coat is one that EVERYONE is wearing this season and this one is only $31! Plus it also comes in several colors.
6. Beauty products are something every lady likes to receive and this Himalayan body/face scrub sounds so nice 7. and how cute is this package of 12 face masks? They are pure enough to be used by kids and adults. 
8. Accessories like a classic tassel scarf in a neutral color make a great gift, 9. and the same goes for these classic tortoiseshell sunglasses. 
10. How cute are these tiny bow earrings!? They would look adorable on any lady on your list. 
11. I have these Sorel boots (last seen here) that I received as a Christmas gift a few years ago and I still love them. They are perfect to keep your feet warm in cold weather. 
12. I think this giant 30″ teddy bear is the cutest thing I've seen all week. Any little girl would love to see him under the Christmas tree.
13. A pretty new planner makes a great gift and I love the little gold tassel on this one. Anyone else besides me still prefer to use a paper planner?
14. I wear my GG belt all the time (last seen here) & it makes a great gift for the fashion lover on your list.
15. I also have this silk eye mask and 16. pillowcase both of which were given to me as past Christmas gifts and I love them! This eye mask is great (silk is a must to protect the delicate skin around the eye) to wear while traveling, when your sick and/or have a headache and it's just too bright out. The silk pillow case has several benefits like less tangles in your hair, and prevents wrinkles on the skin.